Hailey and Wes have a very special connection with Bald Head Island, so it only makes sense that they'd have their beach wedding there! I can't think of a more beautiful place to getting married in North Carolina than at Bald Head Island. The details at Wes's family's home were precious and perfect (LOOK AT THAT LIGHT). There are few things I love in this world as much as open rooms with great lighting.
This is such a sweet way to remember lost loved ones on your wedding day. This was beautifully pinned onto Hailey's bouquet.
These moments between Hailey and her mother, moments before their Bald Head Island wedding, were so beautiful and sweet. I love being able to capture emotions like this!
Hailey adores shamrocks, so of course that had to be included in their wedding details!
These welcome boxes for all of the guests were so sweet! Even the guide to the island was hand-painted and custom made for this event.
Even the pre-ceremony parts of the day are fun when you have your favorite friends by your side!
THEN the action gets started...time for the first look!! I will always recommend a first look on your wedding day, since it's the only chance you'll really have to be alone. All those pre-ceremony jitters fall away, and you can start enjoying this day you've spent planning for months.
A first look with your bridesmaids is a great idea, too, if there is time! This is much trickier to pull off, but the reactions are always so priceless.
Having said all of that, one first look Hailey couldn't forget for her Bald Head Island wedding was her first look with her dad. Y'all, I cry at almost every wedding, but this moment just about killed me. Thank God for my husband shooting backup!
Have you ever seen a cuter chapel?? This is so perfect!
There is not a whole lot more here that I need to say, so I'm going to leave you all with the rest of these photos, and a fantastic list of vendors for planning your own Bald Head Island wedding! Scroll down for the most amazing surprise sunset ever!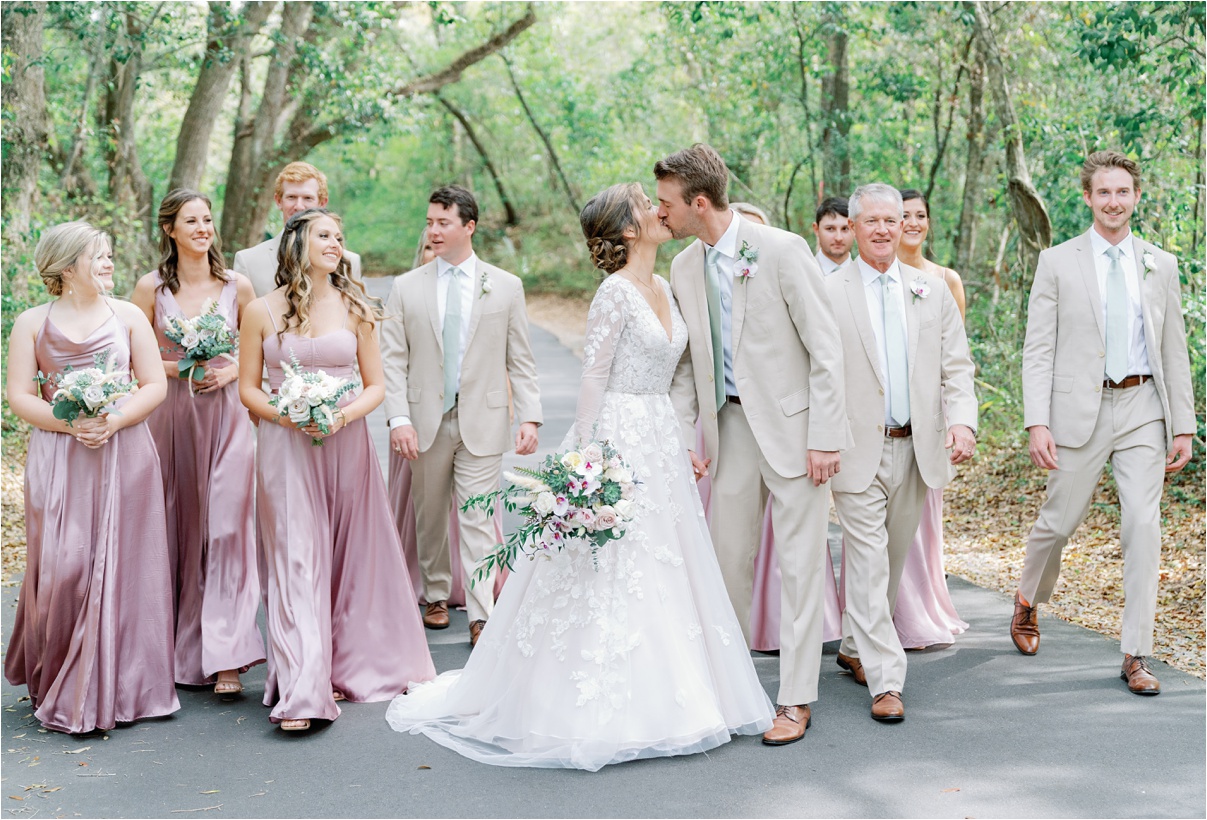 I said I'd avoid more words, but I lied. Peep Meredith Piper over in the corner working on Hailey and Wes's custom painting! She is 10,000% as sweet and talented in person as I had imagined after years of only knowing each other via social media.
This vintage wedding topper, which originally belonged to Hailey's "Nana", has about 30 photos in their album because it is just so beautiful and delicate! The hand-painted champagne bottle and other personal details were the icing on the cake (ba dum tss 🥁).
Vendors:

Robin at Wild by Nature Florist